Back to blog
New Q&A: Highly secure and effective deal communication
October 18, 2022
2 min read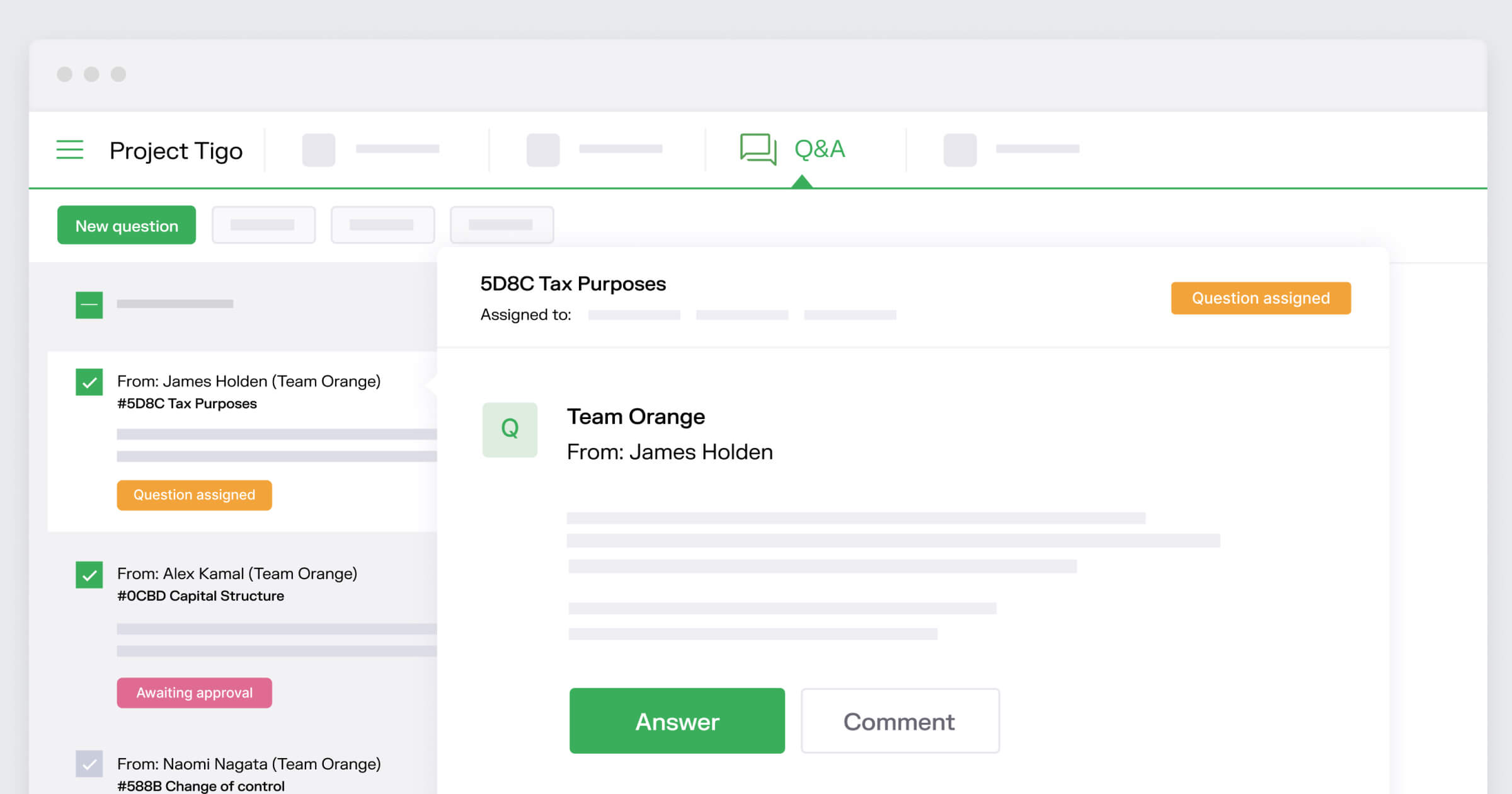 Table of content
Q&A: a short name for an extremely lengthy process, which until now has mostly been conducted via back-and-forth emails and several iterations of spreadsheet exchanges.
Without the adoption of appropriate technology, the typical Q&A workflow creates the perfect conditions for the inappropriate dissemination of confidential data, increasing the complexity of the deal or project while making it time-consuming and extremely risky.
Since the different teams need to be up and running as soon as preparation starts, a proper Q&A tool is crucial to prevent data breaches, ensure efficient communication and guarantee regulatory compliance, all of which will build confidence in the project.
Advanced and improved Q&A
Our Virtual Data Room has received global awards for helping thousands of companies handle the complexities of dealmaking. Through each stage, its built-in Q&A module serves as a dynamic communication instrument, allowing you to track and route questions and answers productively to different participants.
To clarify our approach, we've broken down our new Q&A module, providing you with images to see it in action.
Add users and select roles

Identify the key stakeholders and implement an automatic communication flow. While you can track all actions and messages, our system automatically allocates questions to selected people in line with the five available roles: question drafter, question submitter, answer coordinator, expert, and answer approver.
Limit questions and follow-ups

You can limit questions and follow-ups for each group collaborating in the Q&A. The limit can be set per day, week, month, or duration of the whole project and can be related to the questions' priority.
Ensure bidders confidentiality

The confidential details of companies and people collaborating in the Q&A module are not disclosed unless you need them to be.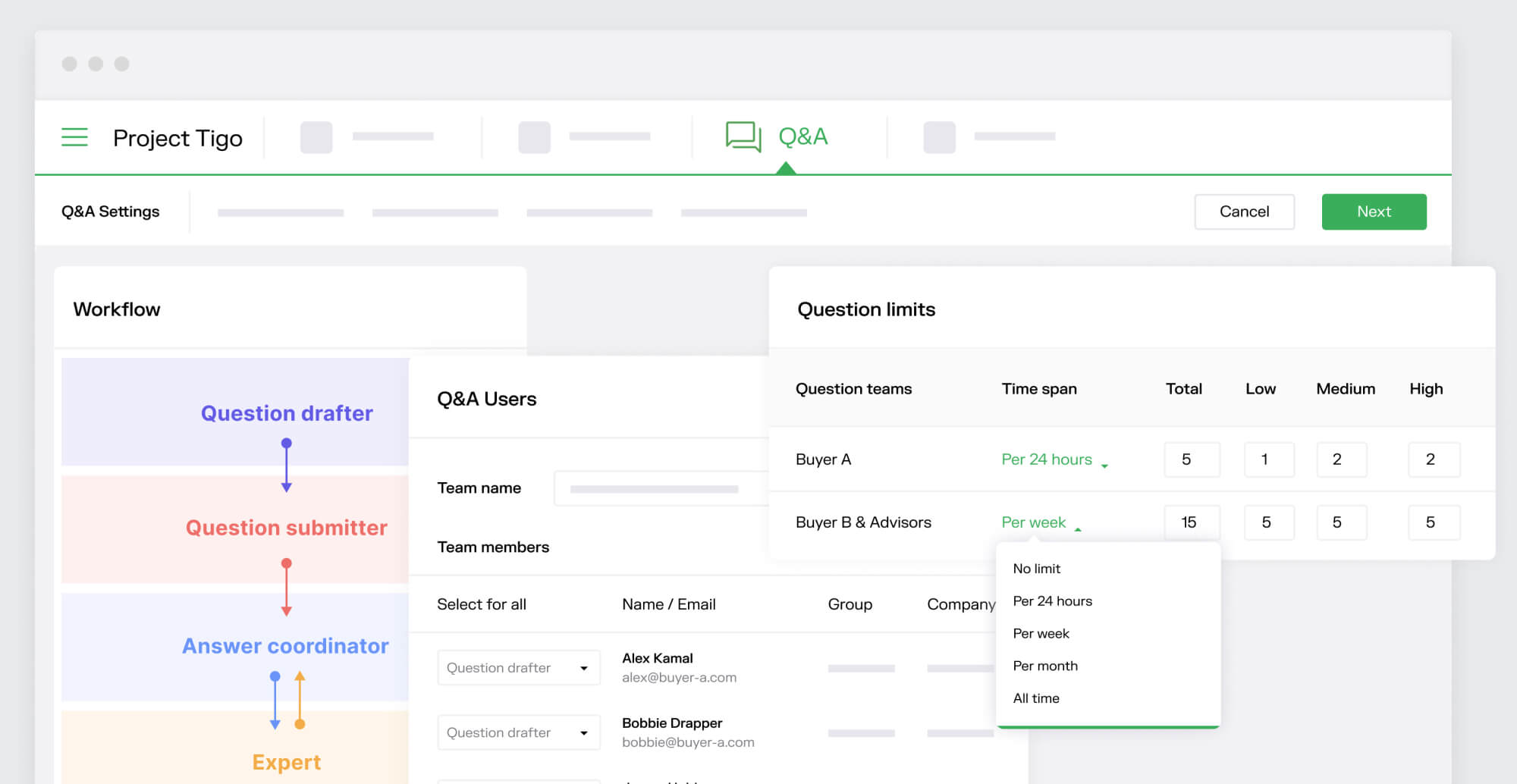 Bulk questions and updates

Import and export multiple questions in bulk from Excel spreadsheets to and from the virtual data room; the bulk process also allows for category, priority, status, and submission updates.
Refer to documents

As a quick reference point, documents inside or outside the virtual data room can be linked to specific questions and answers. You can track all document activity inside the module and access insightful reports that ensure compliance.
Receive instant notifications

Users who have enabled instant notifications will receive emails that suit their specific roles at each stage of the Q&A workflow. For instance, the Question drafter will be notified of submitted answers, edited answers, and proposed FAQs, while the Answer approver will only receive notification of new answers submitted for approval.
Allocate questions as FAQ

Different people may ask similar questions multiple times. Allocating such questions and their respective answers to one single "FAQ" page streamlines the project and deal flow and avoids duplicated work.
Access an intuitive layout

Our Q&A interface allows follow-up questions related to previous queries and their respective answers. The layout improves organization and ensures adequate access to the conversation.
Archive a summary of the Q&A

When the project is nearing completion, with a few clicks you can order a flash drive archive containing selected Q&A activity that you want to keep.
See how it works
See it in action, and start improving the efficiency and security of your project now. Open a free trial
Or check how you can use the Q&A features, with our simple guides.