Introducing Redaction: the simple way to protect sensitive data
Author:
iDeals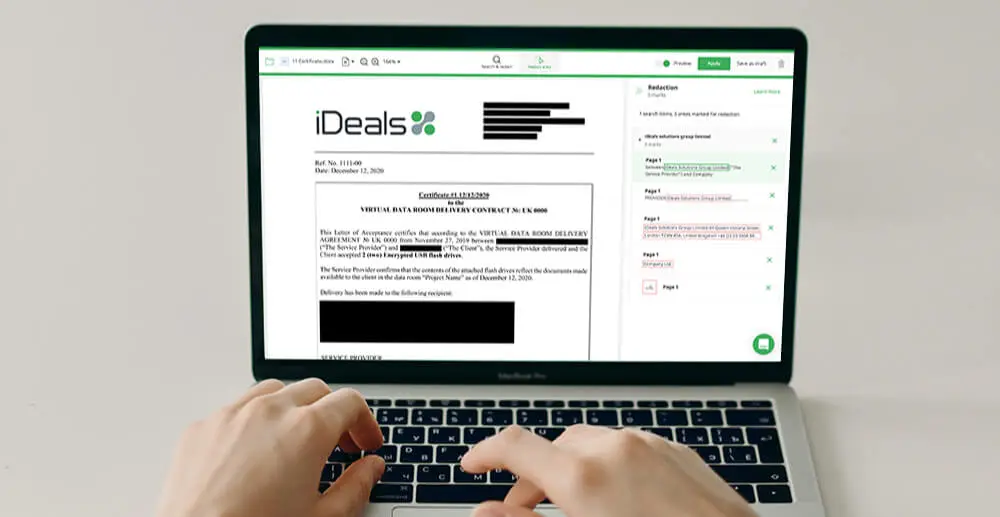 Date:
17 August 2021
Redaction is a critical part of the process for M&A transactions or when sharing sensitive corporate documents with third parties. Failure to properly redact documents can put your business at risk for being out of compliance with data protection legislation. With redaction, you protect company secrets and ensure compliance with General Data Protection Regulation (GDPR), the California Consumer Privacy Act (CCPA), Lei Geral de Proteçao de Dados (LGPD), and others.
Even with non-disclosure agreements in place, there is no guarantee that information won't leak to unauthorized parties. It's thus imperative that confidential documents are properly redacted prior to sharing them with partners. Before redaction capabilities, deal administrators needed to manually inspect and redact each required document prior to uploading to a data room. This process was both time consuming and risky as sensitive information points could be missed.
Redaction is the latest addition to our virtual data room (VDR), one that places the tools for disclosing and masking company data firmly in your hands. You can put away your old correction fluid: Redaction makes it easy to digitally edit your documents on the fly. It's a faster and more efficient solution than relying on manual redaction or using third-party products, which introduce their own privacy concerns and additional costs. By editing your documents directly, within a secure platform, you minimize the chances of unauthorized parties accessing sensitive information.
How Redaction Works
Our new built-in tool allows you to redact documents directly inside your virtual data room. With Redaction, data isn't just hidden – it's deleted, ensuring that there's no way for it to be accessed by anyone.
Check out the Redaction flow inside the iDeals virtual data room.
Redaction options
You can select between two redaction options depending on your needs. You can manually redact an area, be it a word, line, paragraph, image, or entire portion of the document. Simply mark the data or area you want to remove and apply redaction.
To speed up redaction use the Search & redact function. Enter words and phrases that you wish to find in the document. Our redaction tool allows working not only with PDF files but a number of other supported formats such as word and text files, PowerPoint presentations, web pages and more. Using the optical character recognition tool inside the VDR, you can even locate text in scanned or image file types. Once detected, all matches will be marked for redaction and available in preview mode so you can double-check them and remove or add redactions if applicable.
Save redaction drafts
Mark items for redaction either manually or via Search & redact and save as a draft to collaborate with colleagues before applying. With the team working together on the document within the data room, the process is streamlined.
Quickly unredact data
As the deal progresses, you might need to reveal some or all previously redacted documents. The Unredact feature lets you do this at the click of a button. Full administrators can unredact a file so that users with access to the document can view it entirely.
Redaction activity reports
Track your team's redaction actions and control the process. All redaction-related actions are registered in the Reports section.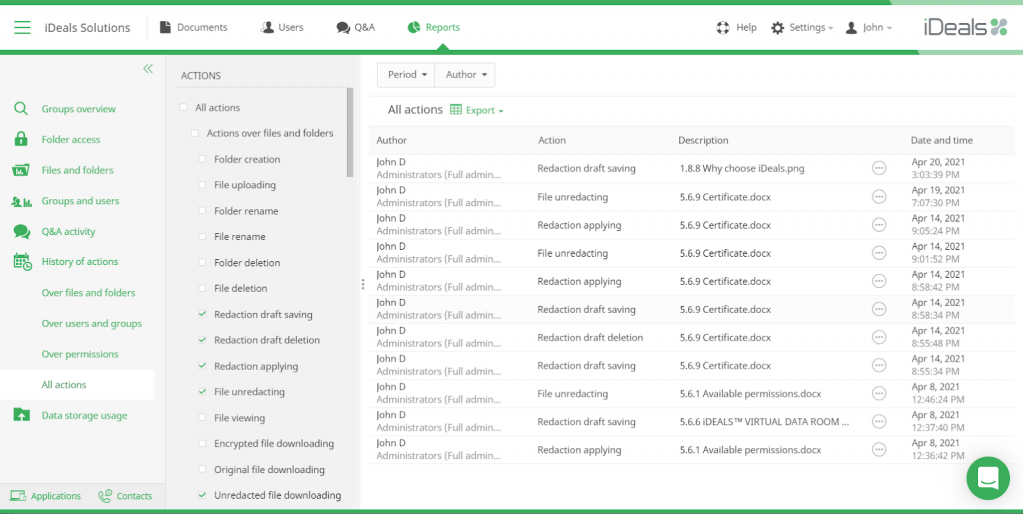 With the new iDeals' Redaction function, it's never been easier for dealmakers to protect critical business data and mitigate data-disclosure risks. Redaction ensures compliance while reducing administrative time, freeing you to focus entirely on closing that all-important deal.
Get started with the iDeals Virtual Data Room today and see what you can achieve.