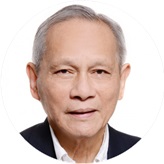 iDeals™ Solutions has announced that one of Hong Kong's most experienced and respectable investment professionals Mr. Cyril Fung has joined the iDeals™ Solutions as a Senior Advisor.
Cyril Fung is an ingenious entrepreneur, venture capitalist and successful financier. He has been a pioneer in the development of Asia's venture capital industry since 1970s. Cyril Fung has advised many international companies and industry leaders about doing business in Asia.
Over the years, Fung has helped many companies execute successful Asian market entry strategies. Cyril Fung was responsible for structuring a joint venture for McDonald's to successfully enter the Hong Kong market in 1975 which subsequently led to the company's rapid expansion in other parts of Asia.
Cyril Fung has served on numerous boards of directors and advisory boards of prominent companies from nearly all business sectors.
Cyril Fung is a member of a prominent Hong Kong banking family. His grandfathers were among the founders of The Bank of East Asia and his late father, Sir Kenneth Fung, was the bank's chief manager at one time. In the 1960s, Mr. Fung worked for The Bank of East Asia in Hong Kong. In 1968, he moved to the United States, where he worked for Morgan Guaranty Trust of New York and was one of the first Chinese to be employed by the company.
Cyril Fung is highly regarded as a strong strategist with extensive deal structuring experience. He casts a wide net worldwide and is known as someone who is very effective in connecting the dots.
Cyril Fung has a B.A. Degree from Harvard (1961) majoring in architectural science and an MBA from Harvard Business School (1965) majoring in finance.