Where Is London's Tech City?
Author:
Kathryn Gaw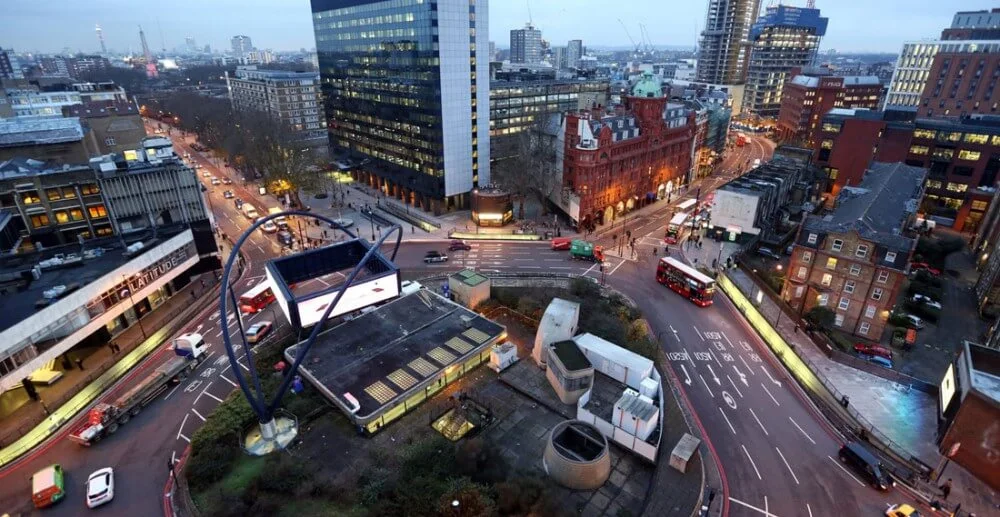 Date:
6 May 2016
In mid-2010, in the wake of the worst financial meltdown of a generation, Tech City was announced to enormous fanfare. According to Prime Minister David Cameron, by offering tax and property incentives to the UK's start-ups, London was going to create its very own Silicon Valley. And it would all be centered around the trendy Old Street area – a neighborhood which would soon be dubbed the 'Silicon Roundabout'.
But fast forward six years, and the Silicon Roundabout has yet to produce one headline success story. Not one mega-unicorn, no major acquisitions, and only one global headquarters (Google, which moved its London base from Victoria to Hoxton in 2011).
So what happened?
In hindsight, it is easy to say that the project was doomed from the start. Until 2010, London's Old Street roundabout was best known for one thing: being the ugliest piece of architecture in the city. A concrete platform scattered with dodgy-looking hedges, brash advertising, and a couple of oddly-arranged arches, it could hardly have been less inspiring. Compare this with the roomy plains of Silicon Valley, which border the golden Californian coastline and the San Francisco Bay.
But with the backing of the Government-sponsored body 'Tech City UK', hopes were high that the country's economic future lay in the start-ups of Shoreditch. The organization was given a rash of responsibilities, including:
• The authority to hand out 200 Tier 1 "Exceptional Talent" visas every year;
• Free training schemes at the Digital Business Academy;
• A high-profile mentoring scheme for start-ups (FutureFifty);
• And access to millions of pounds of funding from both public and private investors.
However, it was recently revealed that only nine Tier 1 visas were ever granted, while the FutureFifty scheme has been mired in controversy of its own.
Furthermore, in 2011 (the first year of the scheme), only 100 or so start-ups actually took the Government up on its offer and either established new offices in Shoreditch or relocated there from elsewhere in London. Despite all the perks and discounts, the East London property market was still too expensive for most newcomers. Some of the most successful start-ups have actually shunned Shoreditch and set up offices in the cheaper areas of Southwark (SwiftKey); Brighton (Deliveroo); Edinburgh (SkyScanner); and Cambridge (Darktrace).
The success stories
Of course, it's not all bad news. Where London's Tech City excels is in the emerging field of FinTech. In fact, the only two unicorns to emerge from the Silicon Roundabout (thus far) are the money-moving site TransferWise, and peer-to-peer lender Funding Circle. East London borders the City of London, home to the Bank of England and just about every single major name in global finance. If Tech City focused more on the 'Fin' and less on the 'Tech', it could very easily become the world's leading FinTech hubs.
After six years of government and venture capital investment, East London's Tech City is now the third largest technology cluster in the world (after San Francisco and New York City), but it is trailing far, far behind its American cousins in terms of scalability, innovation and success. In 2015, Tech City UK was valued at approximately £1 billion – in the same year, Silicon Valley's top 99 companies alone were worth a combined $2.8 trillion. There is a long way to go before London's Tech City makes its mark on the world.
In fact, many are now speculating that London's *real* Tech City is actually located a few miles noreth of the M25 in Cambridge, or even further afield, in the up-and-coming tech hubs in Belfast. Last year, a Government-sponsored report on Tech City UK found that out of the 47,000 technology businesses in the country, 74 per cent were based outside London, creating further brand confusion between the all-encompassing Tech City UK and London's own Tech City. It is telling that Gerard Grech, the CEO of Tech City UK was recently forced to clarify that 'Tech City UK' was NOT solely focused on London, stating "Our mission is accelerating the growth of digital businesses in London and cities across the UK."
This certainly takes the shine off that big 2010 moment when London was without a doubt, 'the' Tech City and the only Tech City. The Silicon Roundabout may be where it all began, but tech cities are everywhere now. London has a lot of work to do if it wants to earn back its former moniker.