Advanced reporting to keep track of data usage across multiple rooms
Author:
iDeals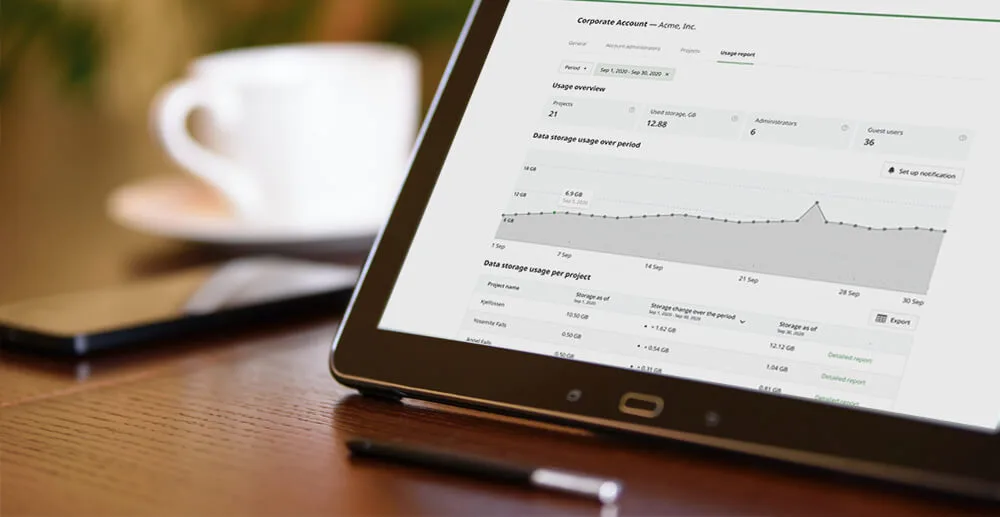 Date:
14 June 2021
Managing multiple data rooms simultaneously is common practice. However, it can be difficult and time-consuming to keep track of each one.
Our corporate account feature can help. It includes details about your iDeals subscription, provides a list of the data rooms you have, shows who is authorized to create new projects under your subscription, and provides access to other related settings for your account.
Following the introduction of our corporate account in 2020, we have continued to add features which improve and ease the management process for your projects.
The Usage report is the most recent addition to our corporate account. With this report, you no longer need to check on every project individually to view your total storage and number of admin or guest users.
Corporate account administrators can now access detailed usage reports for their accounts, which include the following information for a selected period of time:
Number of active data rooms
The total amount of data stored in all active data rooms
Number of unique administrators and guest users across all active data rooms
A corporate account administrator is a person who originally signed up with iDeals and/or anyone appointed as managing account administrator afterward.
Additionally, the usage report includes a graph representation of aggregate storage changes within a corporate account over a specified period of time, as well as detailed information for each data room within this account. The latter allows quick tracking of your most active projects in terms of uploaded data and the option to view storage details for any given data room.
Get notified on reaching storage
Stay within subscription limits and ensure that only relevant data is stored in your data rooms. As a corporate account administrator, you can enable notifications about reaching a specified storage volume (we recommend setting this notice to a storage quantity slightly under your subscription storage). When you set this notification, an email alert will be sent out as soon as the storage across all of your active data rooms reaches your specified value.
Learn more about the usage report in our Help Center.
Start using iDeals Virtual Data Room today and make your next project more trackable!