What to Wear to Your Biggest Presentation
Author:
Mikki Donaldson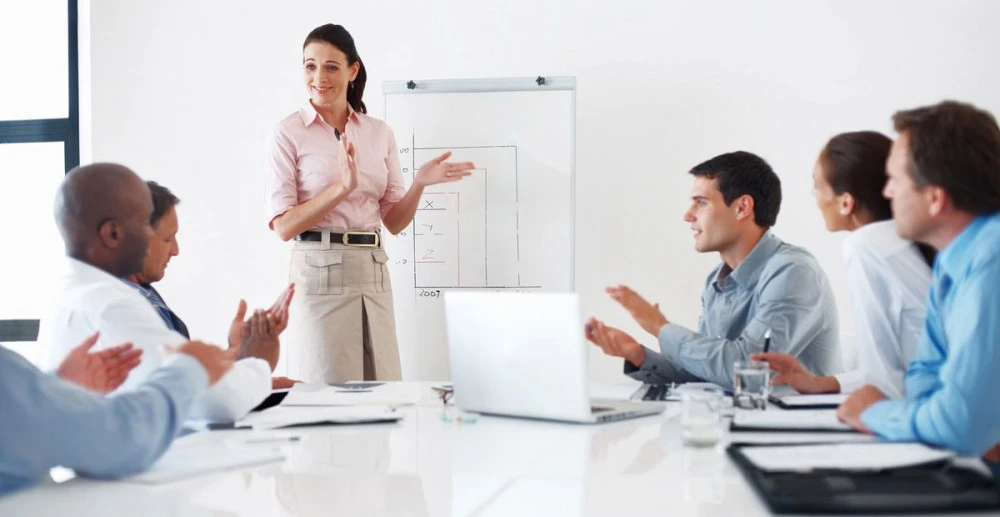 Date:
6 May 2016
You need the perfect power outfit, but don't know what to wear to your biggest presentation. You have this magnificent idea that you need to submit to the company. They want you to present it to an audience of possible investors. It's a huge deal for everyone – putting you in the spotlight. You have the smarts, but now you must put together the total package.
Your attire should draw attention and express your character and values. At the same time, it should not be something that attracts too much attention or distracts anyone from hearing your pitch. Your competitive approach to delivering your ideas should floor them and not your dress.
Take a look at some of these brilliant, intriguing and classy ideas that pull together an unspoiled professional appearance for both men and women.
Business formal wear
No matter what's considered as being fashionable – a well-defined suit is always in order for deal making. When you can't seek professional help – stick with a look you know works best for you. A comfortable Italian suit will make you feel and look sensational. In fact, so sensational that you look better than everyone else, but you can't look too much better than the potential client. Does this make sense to you?
The suit of choice should be something that is neutral in color (black, charcoal or navy) and that will balance and sharpen your appearance. A light wool fabric will hold up nicely for hours of bending, sitting and stretching. Focus on complementing your body shape and style. However, the overall appearance of a man or woman should enhance the complexion and hair color.
Nowadays, it doesn't matter if women wear pants or a skirt in the workplace. With that being the case, it is always a good idea to buy the complete set if the suit is sold separately or with both pieces. This will give you choices for the assembly of several different outfits when deciding what to wear to your biggest presentation.
The total package
We suggest an upscale assemblage, which is usually worn by the success driven in the corporate world:
The Shirt.
The crisp, button-down shirt you choose should have a collar. Of course, the color and fabric of the shirt should coordinate with and flatter your suit. Women… your blouse should not show your cleavage and it should have sleeves. With that being said, wearing something that is sheer is absolutely not acceptable.
The Bottoms.
The length of the pants for both genders should cover most of the heel, but the pant legs should not drag the floor. Slacks should be worn to make the individual appear taller if he or she is lacking height. What's come around with full acceptance and will work more so for tall women are the flare leg pant.
The Skirt.
It should be at least knee length and not tight at all. Pencil skirts work for most women allowing them to look proportioned and polished along with a pair of unforgettable high heels. Ann Taylor and the Tayion Collection are remarkable names to remember when it comes to investing in "made-to-order" business attire.
The Hosier.
Any woman should be able to wear a pair of sheers. A pair of pantyhose that shrink the waistline will help clothes to fit better. As a result of a well televised commercial, more men are wearing red socks. This could have a favorable outcome providing the dress socks are accompanied by the right shoes.
The Shoes.
Duca Di Matiste's designed a superior man's Italian shoe that's worthy of envy. Brian Atwood has an irresistible collection of pumps and Alexander McQueen showcases a stunning pair of scalloped patent leather boots for the boss lady. Owning a pair of these designer's footwear is one investment you won't regret.
The Heel.
The рeel of the shoes doesn't need to be extremely high to make a statement. Shoes bearing three inch heels can be incredibly stylish and comfortable. Something as simple as wearing pumps with open sides will add flavor without alarming the professional fashion police.
The Jewelry.
You could wear a prominent piece of jewelry, however, it should not prompt too much arousal. If you must wear jewelry, women should add a modest pair of diamond stud earrings.
Men, if you are in doubt about what kind of jewelry to wear to your biggest presentation, we may be trouble. You should not wear any at all other than your wedding ring and a timepiece. This look is timeless as the professional dress code allows for little error. By following these simple guidelines, you will likely win a unanimous and favorable vote.