Back to blog
What is a virtual data room?
August 9, 2023
14 min read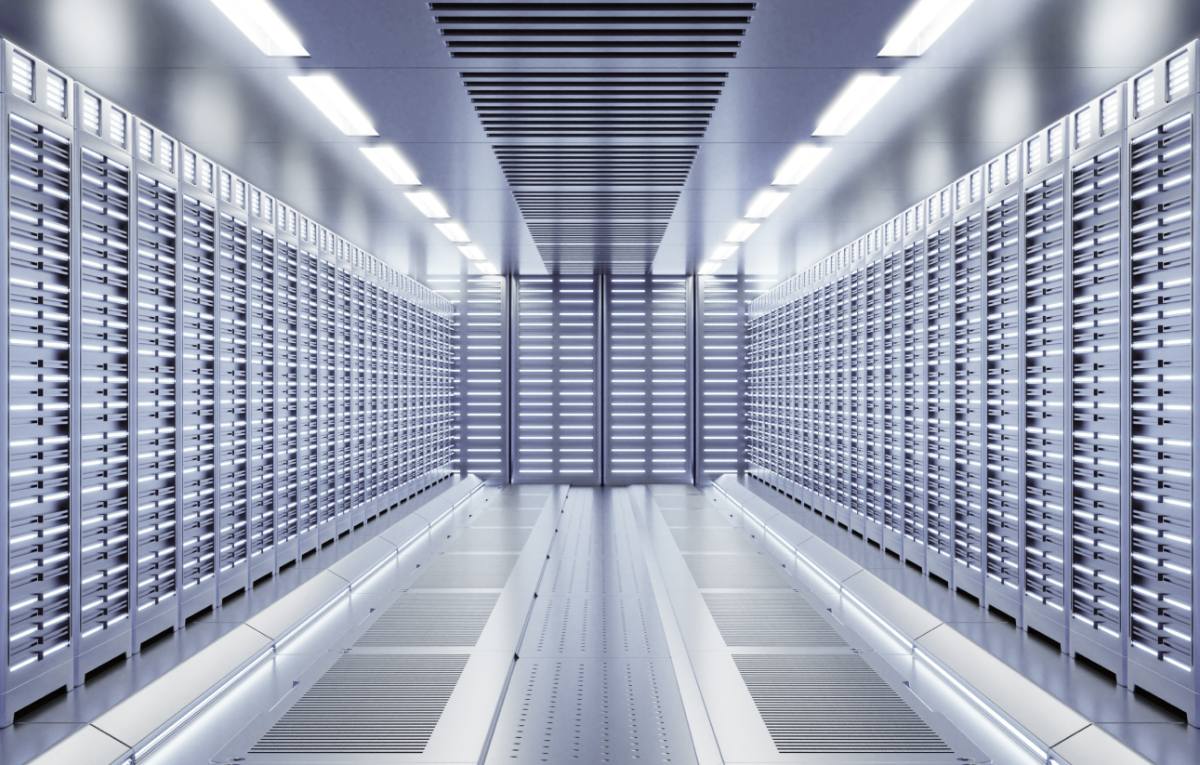 Considering the number of data breaches that happen worldwide, the security of information is of paramount importance. In the third quarter of 2022 alone, almost 15 million records fell victim to data breaches. The average data breach loss totaled $4.35 million in 2022. It's clear from the figures that poor security measures are very costly for businesses.
That's exactly why the demand for virtual data rooms (VDRs) has grown lately. Read the guide below to learn what is VDR and what is VDR meaning for a business.
Key takeaways:
A virtual data room is a cloud-based repository where users can securely store and share confidential data and effectively collaborate with multiple parties.
Virtual data rooms are often used in such industries as technology, life science, investment banking, real estate, law, and accounting. VDRs are commonly used during due diligence, M&A deals, fundraising, or for corporate development needs.
The main difference that makes VDRs stand out compared to traditional cloud storage solutions or physical data rooms is the level of security virtual data rooms provide. Additionally, VDRs also offer knowledgeable customer service, deal- and collaboration-focused features, and are more cost-effective.
What is a VDR?
A virtual data room (VDR) is a secure online space for storing and sharing sensitive information and confidential documents. Virtual data rooms also enable safe collaboration between the users that have access to VDR space.
Virtual data rooms are most commonly used during complex financial transactions, such as mergers and acquisitions and the due diligence process in particular. VDRs allow for the secure sharing and reviewing of confidential data among multiple parties involved in the transaction.
One of the distinguishing features of virtual deal rooms is the high level of data security, which is especially important when managing sensitive documents during business transactions.
Note: A virtual data room is often called an electronic dataroom, online data room, digital data room, or virtual deal room.
Difference between a virtual data room, physical data room, and cloud storage
Besides a virtual data room, there are other ways of storing sensitive data — physical data rooms and cloud storage software. The table below shows how they differ from VDRs and why using a VDR is more time- and cost-efficient.
| | | | |
| --- | --- | --- | --- |
| | Virtual data room | Cloud storage | Physical data room |
| Security | ✅ Security is taken as a top priority, vendors offer lots of security features. | ☑️ Security is of great importance, however, it's not sufficient enough for conducting complex deals. | ❌ Security is only provided on a physical level, which involves lots of risks. |
| Support | ✅ VDRs ensure timely quality assistance via multiple channels, provide training, and offer dedicated CSMs | ☑️ The quality of customer support is usually satisfying, however, users get less personal focus. | ❌ The quality of support is much lower than VDRs offer and it's also time-consuming. |
| 24/7 access | ✅ Being a SaaS product, VDRs are available 24/7. | ✅ As SaaS products, most cloud software providers are available 24/7. | ❌ Physical data rooms are usually available only in working hours or upon request. |
| Collaboration | ✅ VDRs offer dedicated features that ensure timely and efficient collaboration. | ☑️ Collaboration is provided, however it's rather limited as it doesn't focus on conducting deals. | ❌ Collaboration is possible only face-to-face, which is significantly time-consuming. |
| Cost-efficiency | ✅ VDRs are extremely cost-efficient, provided the features they offer. | ☑️ Cloud storage products might be more affordable, but they also offer limited services. | ❌ Physical data rooms are extremely costly to maintain and support. |
Virtual data room VS physical data room
Before the rise of virtual data rooms, physical data rooms were used for data storage. They were often called traditional data rooms.
Compared to VDRs, they had certain limitations, such as:
Inconvenient collaboration with multiple parties
Costly maintenance
Time-consuming process of reviewing documents during due diligence
Obligatory physical presence of interested parties during document review
The need for physical space, filing cabinets, security systems, and staff for document storage
On the contrary, modern VDR providers are easy to access anytime, require less costly maintenance, and are more secure. They also offer professional customer service that ensures users get an outstanding experience and timely assistance.
Virtual data rooms VS cloud storage
On the surface, cloud storage and virtual data room software might appear similar. However, there are principal differences between these two data storage technologies:
VDRs are more secure. At first sight, cloud storage software seems more cost-effective than a VDR. However, that's the price you pay for rather average security measures that won't provide complete protection for your confidential data. Modern VDR providers take many online and physical security measures to ensure sensitive information stays private. These include such security features as fence view, built-in redaction, granular permissions, and remote shred.
VDRs provide better support. As a VDR user, you get professional and knowledgeable assistance if issues arise with the VDR software. Modern providers offer in-app live chat, phone, and email multilingual support, dedicated teams and managers, and help centers with product videos. This is what usual cloud storage solutions don't usually place focus on.
VDRs offer more effective collaboration features. Compared to regular cloud storage software, VDRs offer more collaboration services that are essential when working on complex business transactions. Additionally, they allow for detailed tracking of data room activity, which positively impacts the deal flow. Among the features VDRs provide are document annotations, Q&A sections, the ability to assign tasks, and audit logs.
Data room structure
Generally, the structure of a data room consists of folders and files. Depending on the project you choose a data room provider for, you can adjust the proposed structure to your needs.
For instance, if a team of investment bankers uses a VDR for conducting due diligence, the data room may contain the following folders:
Legal
Finance
Human resources
Taxes
The virtual data room space is controlled by an assigned administrator who manages all the files and folders and establishes access rights to all users.
The main admin's steps of structuring the data room include the following:
Drawing a scheme of the data room structure before starting working on it. This simple step helps to visualize how the data room should look so that its navigation will be logical for users.
Creating a logical filing system for a project. This implies creating relevant folders and subfolders for intuitive navigation.
Adding relevant documents. For smooth due diligence or cooperation, it's essential to make sure each folder contains only relevant documents.
Assigning access to users. One of the last steps is making sure each user has the right access only to the files they require to review.
Updating folders regularly. Considering the lengthy process of document reviewing, it's important to regularly review and update the documents in each folder and refresh the folders' structure if needed.
Tips on implementing a virtual data room
The process of data room implementation can generally be divided into five main stages:
Account set up
Data room configuration
Users invitation
Permissions setting
Documents upload
Let's shortly review your actions, as a user, during each stage.
1. Account set up
Setting up an account usually presupposes account registration, filling in personal info, and adjusting security and notifications settings.
To complete registration, you'll need to provide your personal information and agree to the Terms of Use and Privacy Policy. Then, create a strong password and set up security settings such as two-factor authentication.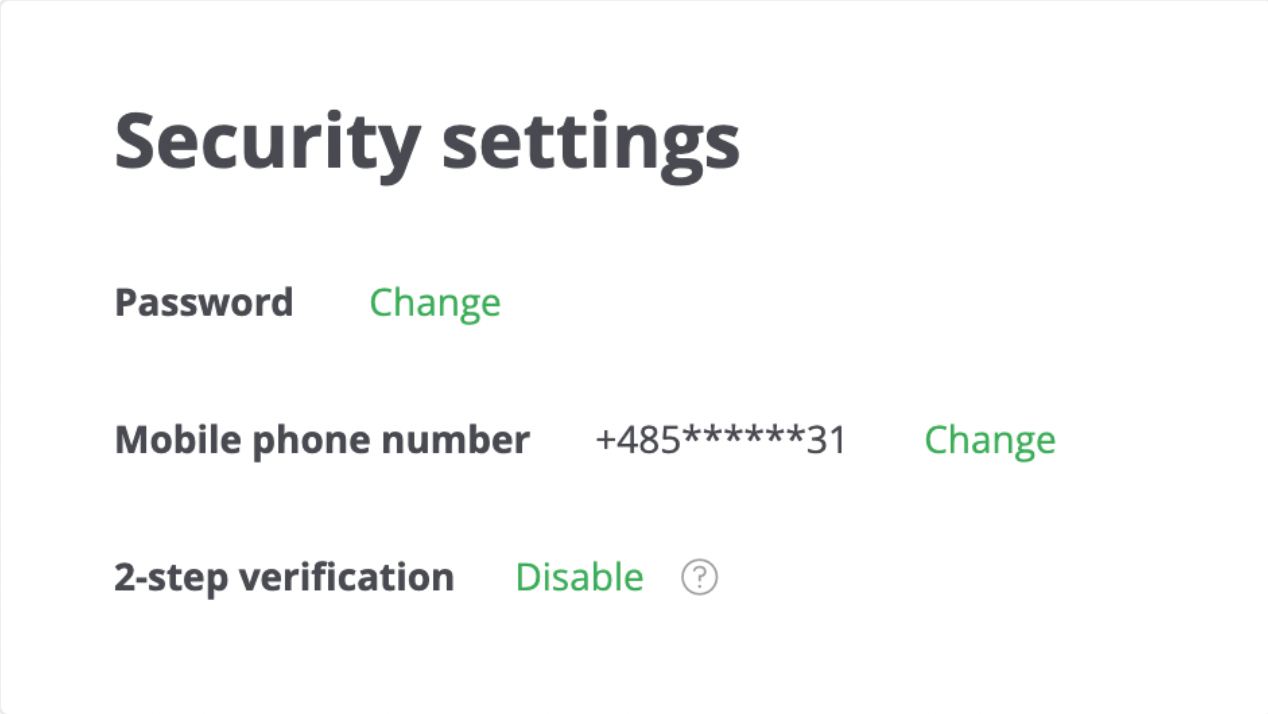 Additionally, you can set up certain notification settings, such as notifications about documents, Q&As, or reports.
2. Data room configuration
After completing the first step, you'll have a data room ready to use.
Now, you can take care of the security implementations and other data room settings. These correspond to enabling or disabling automatic indexing, customizing watermarks, applying branding features, adding NDAs to your project, and specifying document labels.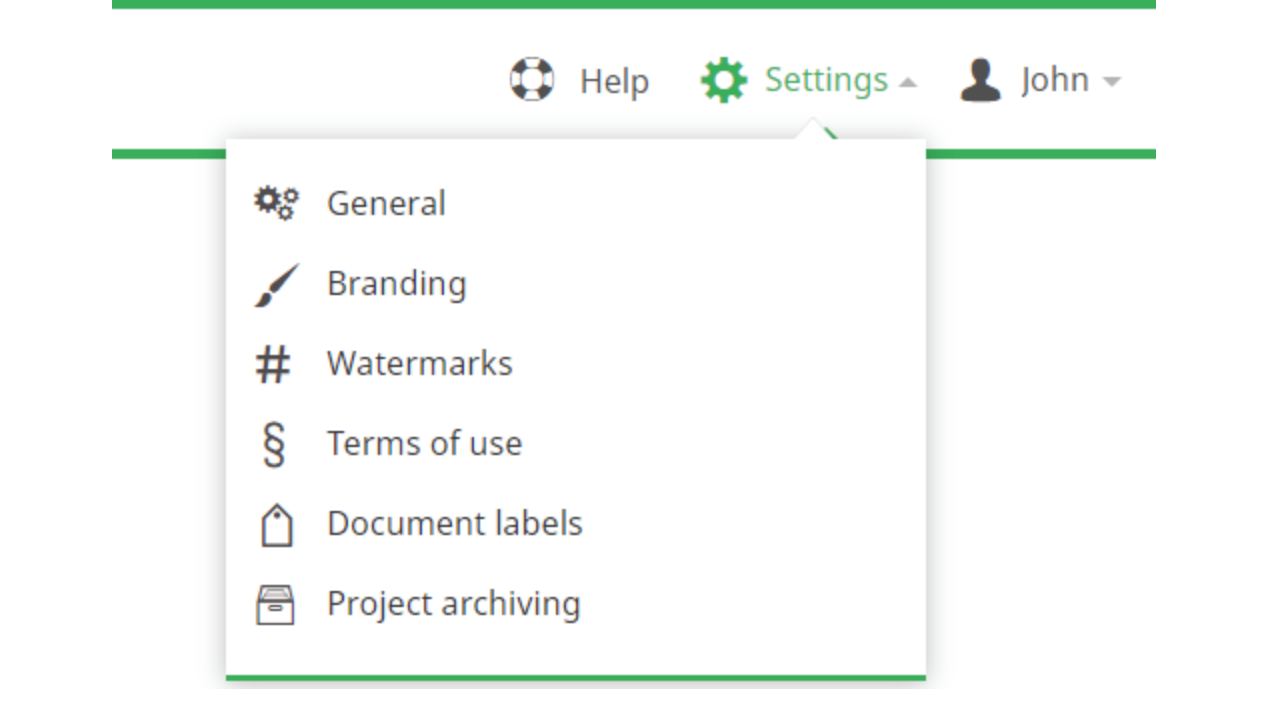 3. Users' invitation
The next step is usually to invite users to the data room — this is an easy thing to do via the bulk invitation feature.
After this, an administrator usually creates user groups. Typically, there are two main user groups — admins and users. While admins have access to most of the files and actions, users are generally more limited in their actions inside the data room.

4. Permissions setting
To ensure you're controlling access to files, you should set up certain access permissions for each user or user group. These usually include View, Download, Print, and Edit.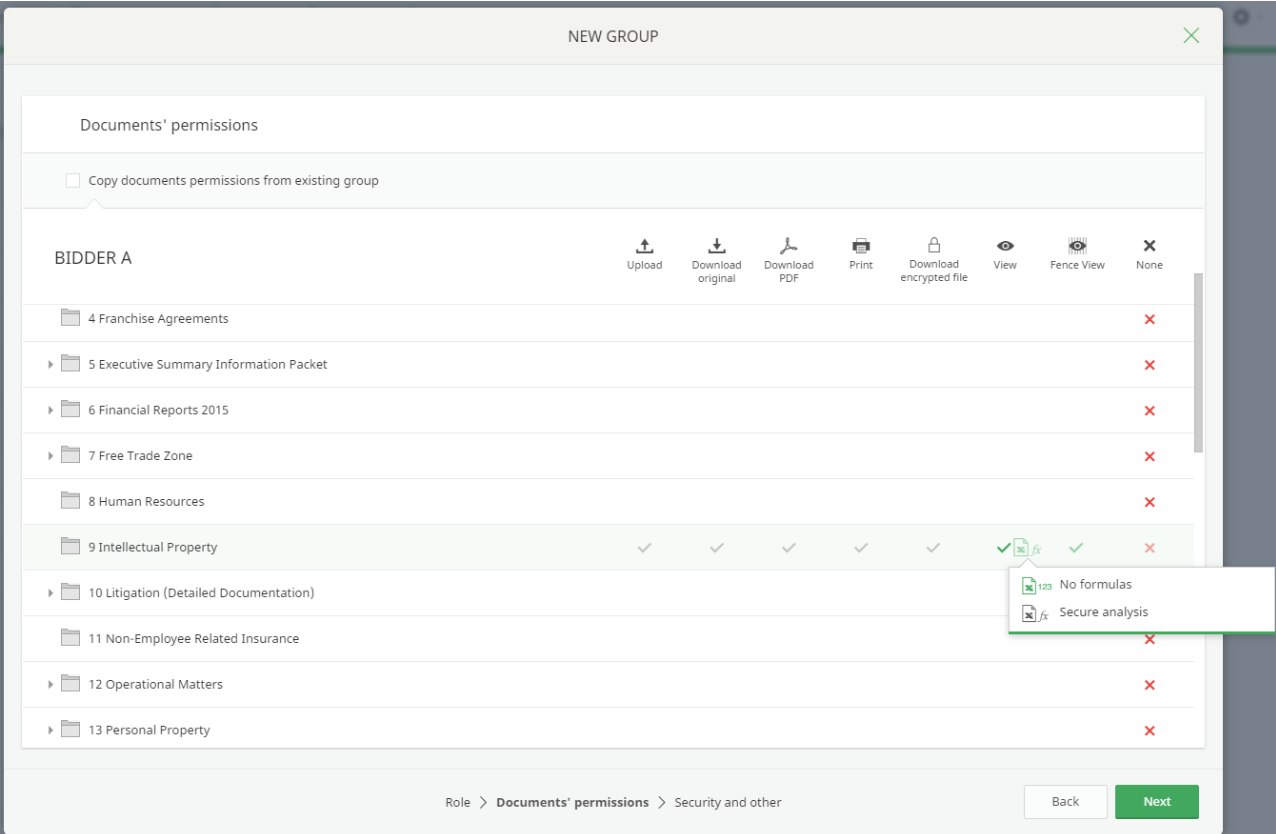 alt="Screenshot from iDeals virtual data room showing how to set up access permissions to users groups."
Additionally, you can limit access to the data room till a certain date and time or apply certain IP address restrictions.
5. Documents upload
The final step is to upload documents for your project. For this, use the drag-n-drop option, and plies of data will be uploaded to the data room with a click.
To ensure data room users only have access to the documents they require, opt for the granular document permissions. These allow for specifying access policies to each folder and document in the data room. Granular document permissions can include None, Fence View, View, Download encrypted PDF, Print, Download PDF, Download original, and Upload.
alt="Screenshot from iDeals virtual data room showing how to apply granular document permissions to different documents."
Common uses of virtual data rooms
Typically, virtual data rooms are used when there's a need to share and collaborate over sensitive documents securely and effectively.
The most common use cases of virtual data rooms include the following.
M&A
Due diligence
Fundraising
Initial public offering (IPO)
Strategic partnerships
Audits
Secure document sharing
Corporate development
Let's not shortly review each of them in more detail.
M&A
A mergers and acquisitions deal is a complex financial transaction that requires preparing and reviewing documentation. Therefore, for both the sell- and buy-side, it's essential to have all required sensitive data stored in one secure, controlled environment — that's what virtual data rooms do best.
And clients' feedback speaks loud about VDR's efficiency during M&A. This is what customers say about using iDeals VDR during mergers and acquisitions:
It's a super versatile and robust system. Our company has used it to conclude 3 multimillion euro/dollar M&A transactions (and currently in the process of 3 more). If there ever has been an issue or question with something, the support team has always been available to handle the query immediately. Particularly, you know the product is good when the support team takes recommendations for features and asks for more details on how certain features are used, etc.
Due diligence
Due diligence is the most frequent use case for virtual data rooms. During due diligence, the sell-side needs a secure platform to store documents required for the reviewing process, and prospective investors need a single place to review that documentation easily.
Additionally, both sides require smooth collaboration that can accelerate the deal. This is what virtual data rooms provide.
iDeals' customers often choose it for conducting due diligence and appreciate the services provided:
When doing diligence with external parties, iDeals is such a great tool to be organized and professional. It is easy to navigate and when you have issues, their customer service team is 2nd to none!
Fundraising
Raising funds is one of the key ways for small and large businesses to grow. Unfortunately, attracting prospective investors is not an easy task. It requires collecting lots of financial documentation and other sensitive data, as well as establishing effective collaboration between both leadership teams. Using a virtual data room during fundraising rounds makes the document review process smoother and collaboration more straightforward.
iDeals' customers indicate they had a "successful fundraising round using iDeals":
The system is user-friendly, and all users (admin. and regular) loved the experience. Further, the user permission management is very professional.
Initial public offering (IPO)
Taking a private company public entails lots of paperwork and attention to detail. A company must follow various local and federal laws and regulations. Additionally, it's important to ensure transparency for the public and prospective shareholders. For a successful IPO, thorough document preparation and management are essential. And this is what virtual data rooms offer.
Strategic partnerships
Mergers and acquisitions are not the only way for a company to step into a new stage of development. Often, organizations choose strategic partnerships as a way to produce new goods, enhance their area of operations, or engage in an entirely new venture.
A company's decision to partner with another organization requires much document sharing, and virtual data rooms allow for doing so securely and effectively.
Audits
There are many situations when an organization needs to disclose sensitive data to external parties for an audit. For example, it happens when companies seek to gain certification or compliance or when there's a legal requirement for that.
In this case, it's essential to share confidential information in a secure environment without the risk of being compromised. And this is what virtual data room providers offer.
Secure document sharing
The most common use case of virtual data rooms is simple document storage. A virtual data room is then used as an online repository to securely store and share the company's documentation. To meet this need, VDR providers allow for the sharing of everyday files with multiple parties — from third-party accountants to internal employees.
Corporate development
A data room is also a great tool to establish effective board communications among board members and facilitate an organization's development.
A company's leadership team not only can share all the required documentation via virtual data rooms but also collaborate with board members, which significantly accelerates the decision-making process.
Users of virtual data rooms
A virtual data room is typically used by a company seeking a secure environment to store sensitive corporate documentation or share confidential documentation with other parties to process a financial transaction.
The most common VDR users are usually the following:
Life science organizations
Investment banks
Accounting and audit companies
Technology companies
Real estate firms
Legal firms
Private equity firms
Startups
Let's now take a quick look at each of them.
Life science organizations
The life sciences industry includes biotech, pharma, and medical device companies. This business sector deals with all sorts of intellectual property that has to be properly stored and managed.
Additionally, companies in the life science industry often merge or partner with each other and raise funds, which also requires the protection of their intellectual portfolio.
For example, this is what Sorrento Therapeutics says about using the iDeals virtual data room:
iDeals data room software combines user-friendly interface and comprehensive functions. In addition, their diverse reporting system is extremely helpful when you need some analytic data about your data room. I would hate to switch to another system.
Investment banks
Investment bankers are the most common users of virtual data rooms. They assist the sell- and buy-side of the financial transaction with financials, document preparation, and other process-related activities.
Obviously, they require reliable storage space for that, since financial transactions are complex and involve confidential data.
For example, this is what Aquila Capital specialists say about their experience of using the iDeals virtual data room:
We are in long-term cooperation with iDeals as a data room provider, which supports our business with high-quality and first-rate technical help.
Accounting and audit companies
When undergoing an audit, companies often use VDRs to present required data, as VDRs allow for doing that securely. That's why accounting and audit firms typically recommend VDRs for their clients when undergoing these complex yet important procedures.
For instance, this is what Ernst & Young's consultant states about their experience of using the iDeals virtual data room:
iDeals is not the first virtual data room service used by our team, however, it is the first we are fully satisfied with. I find the activity log really cool, with checking all actions and downloaded documents you can go through the progress of the whole project. We were using iDeals for more than a year and now recommend iDeals to all our companies and partners.
Technology companies
The tech industry is where continuous development takes place. Companies grow, expand, merge, or acquire other companies. All these processes require a reliable platform to share financials and other confidential information.
Presto Testing Instruments have used iDeals virtual data room and this is what their M&A director says about it:
After using other solutions, we finally opted last year for a Business Subscription with iDeals. Since then, we made ten acquisitions through VDR, and the Support Team has been efficient and responsive with helping me to set up the index of each project.
Real estate firms
Real estate agents deal with lots of sensitive information — from real estate projects to clients' private data. It's of paramount importance to guarantee clients a high degree of privacy and security, that's why virtual data rooms are so often used in the real estate industry.
Legal firms
Virtual data rooms are especially useful for the legal industry. Legal firms need to securely share sensitive information with multiple parties — staff, clients, or other interested parties. Therefore, VDRs are commonly used during procedures, such as litigation, bankruptcy, fundraising, or M&A.
Private equity firms
Venture capital firms and private equity firms are often involved in various complex financial transactions calling for sensitive document sharing. They need to do that in a secure environment without the risk of data exposure.
Startups
Virtual data rooms allow startups to securely gather, store, and share their financials and other sensitive documents to attract potential investors. Via VDRs, startups often share such confidential business information as intellectual property, and it's essential to minimize the risk of data breaches.
Top 5 benefits of virtual data rooms
A VDR is an effective solution for any business that requires a secure environment for efficient collaboration.
The main advantages of using virtual data rooms include the following:
Security. VDR vendors make document security a top priority. Most VDRs have all the features required for secure document storage — watermarking, redaction, fence view, remote shred, granular document permissions, IP restriction, and many more.
Support. Virtual data rooms provide professional customer service via multiple channels such as in-app live chat, phone, and email, and the support team usually speaks multiple languages. Additionally, VDRs offer training videos and have dedicated project managers and teams to help you in place.
Round-the-clock access. VRDs are SaaS software products, which means they're cloud-based and can be accessed anytime. Additionally, many modern providers have responsive mobile applications which make access even easier.
Collaboration. VDRs provide a variety of collaboration tools that make communication between parties smooth and effective. These include Q&A sections, document annotations, and the ability to assign tasks. Many modern vendors also offer various third-party integrations which allow users to use their favorite tools without leaving a VDR space and significantly facilitate deal-making and collaboration.
Cost-efficiency. Though at first sight, VDRs might seem a bit pricier than traditional cloud storage solutions, such pricing is justified by the quality of services provided. By paying for a virtual data room, you pay for high-level security, professional support, and excellent user experience.
FAQ
An example of a virtual data room depends on the VDR use case. For instance, there are virtual data rooms for real estate, investment banking, legal, and audit needs.
A virtual data room provider is a company that offers VDR software that allows for secure document storage and sharing and effective collaboration.
Virtual data room software is an online repository for the secure storage of sensitive information and effective collaboration among multiple parties. The key distinctive feature of a virtual data room is the high-level security and confidentiality it provides to users' data.